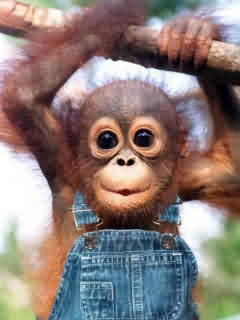 I didn't know what picture to put here, so
I put a baby monkey to make you smile!
Hi everyone! You'll be happy to see I have a more cheerful post for you today! I just figured out that my Blogaversary is coming up in a few days. This Sunday, my blog will be exactly 2 years old! Although I have disappeared a few times from my blog, I've kept this blog up pretty regularly, and in the blogging world 2 years is a lot! Most new bloggers quit by about six months after they start. I guess if you make it two whole years, it means you're a successful blogger!
Last year, for my Blogaversary, I posted a survey asking my readers some basic questions. 24 readers responded, and I posted the results with graphs! I learned some interesting statistics, like that most of my readers were females between the ages 26 and 35
or
between 60 and 69. 80% of them had their own blogs, and 80% of them have dogs but only 10% had cats.
This year, I thought I would recreate the same survey, and then I can compare the results and see if they have changed over the past year. I know that I have more readers... for instance, I have 100 fans on my Facebook page!
This survey is really easy. It is 10 questions (that is all Surveymonkey will let me post without paying) and it is anonymous.
Even though my Blogaversary is Sunday, I know that a lot of you will be celebrating Easter this weekend. So, I will keep the survey up until Tuesday at 5 pm, and I will post the results on Wednesday.
Will you take the survey? Here is the link!
https://www.surveymonkey.com/s/KBMFC52
Thanks, everyone! I can't wait to hear from you!