I know you are probably getting sick of hearing about my
Over The Rainbow
idea. I mean, how much can a person possibly listen to a blogger talk about a business that doesn't, and may not ever, exist?
But, as my Auntie Em once told me, I can daydream it into reality. And as another aunt told me as we were having a talk at our Christmas celebration, if I keep taking steps towards my goal, I can achieve it. So...
Can I just talk a little bit more about it?
On the creative visualization side, I have made a
Facebook page
for the idea of the business. I will eventually turn this into the business's official page, but for now, of course, I am making it clear that this is a page to support the
plan
! I have 3 Likes so far. (Two of them are my own self.)
I also created a
Pinterest board
where I am starting to collect ideas, and an
Amazon Wishlist
for things I would like to have there. (Because Open Play hours will be one of the ways that I will be reaching out to the community and getting exposure, I would probably start with some larger things such as the play structure, and get smaller things from thrift stores and garage sales and what I already have. I also had a cool idea for a grand opening... I would have open play hours- including some special activities like story time, art projects, etc- on a Saturday before we officially open. Instead of charging admission, I would ask people to bring a new or gently used toy, book, or art supply to donate to us. It would be like a "shower!"
On the networking side, I posted on some Oregon-based message boards about my idea, asking for feedback, and one person suggested I talk to the Oregon Autism Society to see if I could survey their members.
I also did some research to see if people have created similar businesses and been successful. I found
Kaitlin's Hideout
here in Illinois, and
Yikes Tikes
in California. Both are sort of similar ideas. There is also
Gigi's Playhouse
, which started out in Illinois and is now nationwide. (Gigi's Playhouse is a nonprofit, specifically geared towards people with Down syndrome and their families.) So I definitely think this is something doable!
And here is my tentative, tentative,
tentative
timeline for getting it up and running.
January/February/March - continuing to sub here in Illinois, saving up money and gathering resources and ideas.
March/April/May - Going out to Oregon to stay with my aunt for a while, subbing there to make more money, getting a place to live in the area, looking into a space for the business to exist.
June - Actually acquiring a space, getting it set up, getting a business license, looking into advertising, etc. Possibly also teaching in a summer school class like I did last year (I could even go back to Illinois for a few weeks if I get rehired for the same place I worked in for the last few summers) to make extra money and stay on top of things.
End of July/beginning of August - Opening "shower" day for the community, open play hours (for a fee) during the week, recruiting kids for the preschool program, networking. First official respite Saturday.
September - Preschool begins! Business is in full swing!
October - I make a million dollars and say "toldjaso" to all the haters.
--------------------------------------------------------------------------------------------------------------------
I have to admit, I do keep having these pangs of, "I'm wasting my time daydreaming about this." I haven't even mentioned it to my mom yet because she'd just tell me a thousand reasons why not to do it. I just keep having to tell myself, there is no reason on Earth why this
couldn't
become a reality. I just have to keep working on it.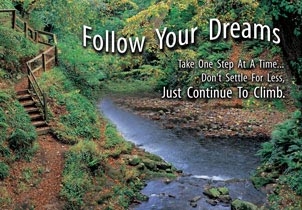 My book With Love, From Angel is now officially available, and you can get it in a multitude of ways!
The full-color version is available on
CreateSpace
for $20, or
Amazon
for $18. You can also get it on
Kindle
for $7.00. But if you buy the hard copy on
Amazon
, you can also have
the Kindle
version for free!
The black-and-white version is available on
Createspace
for $10, or
Amazon
for $9.00.