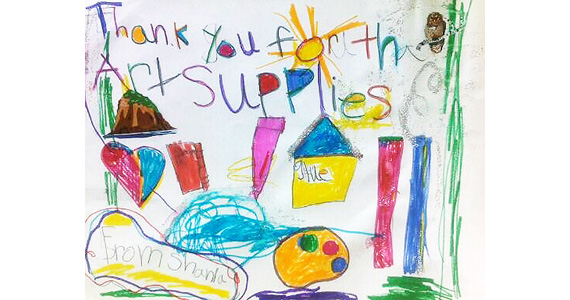 Hi everyone! I have a new banner on my blog. If you look to the left, you'll see a post that says "Kids Need Art!" The banner is for Dreaming Zebra, an organization based in Oregon that provides free music and art supplies to schools and organizations that work with children, that would otherwise have difficulty obtaining these supplies. They provide things like Sharpies, paintbrushes, paints and canvases for oil and acrylic painting, sketchbooks, and colored pencils, and even things like pottery wheels, as well as "recycled" materials that can be used as creative supplies for kids... old calendars, fabric scraps, etc. They also provide musical instruments.
They actually help organizations all over the place, even though they are based in Oregon. Some examples of programs they help out are art programs for children in hospitals, homeless shelters, special education schools, city youth programs, immigrant and refugee organizations, and even international children's aide programs.
While art is definitely recreational and educational, and helps children develop imagination and problem-solving skills, in many of these cases it is also therapeutic. Art can provide a way for children going through difficult experiences to process things and communicate their feelings.
My sister-in-law Sunny was the one who first told me about this program. She is very creative, and sells a lot of her own artwork and crafts. She donates some of the profits to Dreaming Zebra.
I love art, and I am glad to feature this banner on my site in order to let everyone else know about this great organization. Click on the banner to learn more about what they do, and to look for opportunities to volunteer or donate recycled materials!
Okay. I just wanted to draw your attention to that. Now back to your regularly scheduled activities.