Ever since we adopted my bigger dog, Trixie, in 2008, we've wondered what kind of dog she is. Looking at her, she appears to be a classic scruffy mutt.
Some people have compared her to famous classic scruffy mutts such as this one
But I think she looks an awful lot like this one... only bigger!
Trixie and Lily are not genetically related. But I know Lily's specific mix... she's a maltese, poodle, chihuahua, rat terrier combo. I always wondered what other random combination of breeds could create a dog who looked so similar, but a different size!
Today I was looking for some pictures of dogs to help me draw a picture for the newest children's book I'm working on. And I came across this one!
The non-Trixie dog is Cassie, a Spinone mix. I have heard of most dog breeds, but I've never heard of a Spinone! I decided to look for some more pictures of Spinones and their mixes. Here are a few that I found!
This next one is a former shelter dog who was adopted. Her name is Guiseppe. She's part Spinone, and part Wheaten Terrier.
Now look at Trixie again!
A purebred Italian Spinone would look more like this: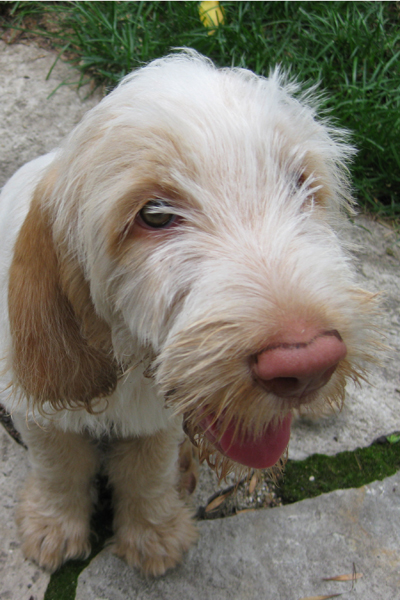 But I can totally see how she could be a Spinone mixed with some sort of terrier.
What do you think? Could she pass for an Italian Spinone?