I found out about this linky party thingy from Nannypology, who found it on Lauren Elizabeth. It's kinda like the Happiness Challenge, but for Fridays! The idea is to share five of your favorite things from the past week... not necessarily blog posts, just things. Join in if you want! You can link up by clicking this button.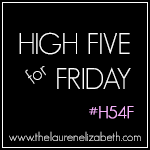 1. I survived the week of being on my own... along with my dogs! I proved to myself that I can live on my own again without having constant panic attacks. I will be fine. (Now if only I could find a job, so I could get a place to live on my own!)
2. I visited with my Nona, and had a great time. We went out for lunch, went to K-Mart, and watched TV. She gave me some magazines to take home, too! My Nona is one of my favorite people!
3. I got lots of sunshine even though I also got plenty of humidity and heat! I am not usually one for air conditioning... I grew up without it, so I rarely feel the need to turn it on... but this week I've been cranking that baby up!
4. I started polishing my writing skills again by starting on a new novel. It is pretty much a redo of a novel I started, but never finished, a long time ago. Let me know if you'd like to read what I have so far... I'd love any advice and criticism!
5. My parents are coming home today! It will be nice to see them and see lots of pictures of the baby. And I know my Big Dog will be happy... she's been very homesick for them. (Small Dog, on the other hand, is content to be up my butt at all times. Right now she's literally trying to climb under my butt, because it's storming and she's scared of thunder!)
So it was a pretty great week, after all, wasn't it!
Now go write your own High Five post, and lets all have a great weekend!
PS... I sure use a lot of exclamation marks, don't I? Here are some question marks to balance it off? ???????????????????????