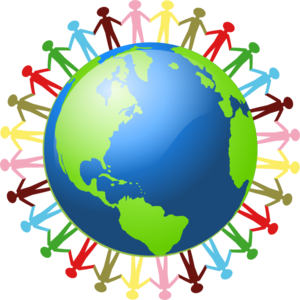 What if life is just a giant version of MTV's "The Real World?"
Yesterday as I was riding in the backseat of someone's car on the way to my river tubing adventure, I started daydreaming, as is apt to happen whenever I am riding in a car or looking out a window. My mind just starts to float off.
For some reason I started thinking about the bad things in the world. I think it at first had something to do with a Facebook post I saw by The Barking Army. They post news stories, pictures, etc, involving animals, and often the posts are about horrid things that people have done to animals. The one that was on my mind was a story about this guy in Washington who believed his dog was possessed by the devil, so he strapped a bomb to the dog's collar and set it off, blowing the dog up. Shockingly to me, the man was not charged with animal cruelty, because apparently the dog didn't suffer when he was blown up. So all he's getting is misdemeanor charges for owning explosives, and reckles endangerment. So I guess now exploding your pet with a bomb is considered a humane method of euthanasia. The story made me want to cry a million times. And I started thinking about all the animals, children, and others in this world who suffer at the hands of people who have more power than them.
Sadly, I was thinking that even though it is good to learn about people and organizations that are trying to do good in the world, like rescuing stray animals or volunteering to stand up in court for children in foster care... these tasks wouldn't be necessary if there wasn't so much bad in the world. For every organization that rescues pets from high kill shelters and finds homes for them, there are a hundred pets that never get rescued. For every person that fights for a child to be removed from an abusive home, there are a hundred children who continue to grow up with abuse. For every person who plants a tree to try to help the environment, there are a hundred trees in the rainforest getting ripped down.
As I thought more about this (my mind has a mind of its own) something else occurred to me. What if life is just some kind of experiment, or test, to see if good can defeat evil? What if the whole world is just a giant version of MTV's "The Real World?"
This is the true story... of seven billion strangers... picked to live on a planet... work together and have their lives observed by extraterrestrials... to find out what happens... when people stop being polite... and start being real.
The conclusion I came to is this. Life is a fight between good and evil. To me, "evil" means hurting someone or something on purpose. If you are playing catch in the yard and the ball accidentally hits your little kid in the head, that is not evil, that is an accident. But if you punch your kid in the head, that is evil.
People who want to do evil things will keep on doing them no matter what. Sometimes doing good is harder than doing evil. If you keep to yourself and never hurt anyone, you may not be doing evil, but you're just being passive and you're not helping to fight the evil in the world.
In order for the good in the world to overpower the evil in the end, as many people as possible have to try to fight. Find some way that you can make a difference, and do it. It can be a big way, like joining PeaceCorps or dedicating your life to raising orphaned children in Africa. It can be something small, like sending a donation to your favorite organization or sponsoring a friend in a Walkathon. It can mean volunteering your time to work with animals, children, people with disabilities, the homeless, or whatever. It can especially mean teaching others in your life, including children, to find their own ways of doing good and defeating evil. And even if you just think you're making a tiny little difference, it does mean something, and it is important.
For my Happiness Challenge for the day, I am happy that I am able to do good in the world, and I am happy that I am not the kind of person who would ever hurt anyone. For all of my mental health and special needs issues, none of them involve hurting others. So I guess I am lucky, in that way.